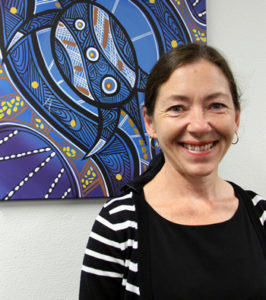 Ms Joanne Selfe has over 30 years' experience working in various positions within the public sector, private enterprise, community-based organisations and higher education. She was the first Aboriginal Director of the Indigenous Services Unit in Corrective Services, in the mid 1990's.
The implementation of the recommendations of The Royal Commission into Aboriginal Deaths in Custody and The National Inquiry into the Separation of Aboriginal and Torres Strait Islander Children from their Families formed a basis and direction for her work that continues to this day.
This has led to her involvement in Reconciliation. She was Deputy Chair of the NSW State Reconciliation Committee and Chair of the Reconciliation Events Committee Corroboree 2000. Her knowledge and focus in her various program and policy roles has been dedicated to enhancing cultural understanding of her people and increasing access to programs and services for Aboriginal people by breaking down barriers.
Joanne is an Elder of the Youth Koori Court, a founding member of Warringa Baiya, the Aboriginal Women's Legal Service, and a member of the National Congress of Australia's First Peoples. She is also a master grass weaver.
Joanne has a Bachelor of Arts degree from the University of NSW; a Diploma in Contract Management; and an Associate Diploma in Communications.
Sessions: