Creative Director, Heaps Good Productions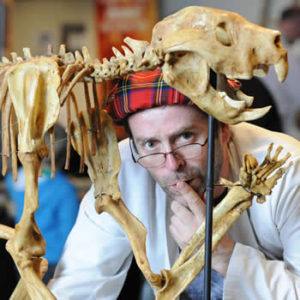 Michael Mills has written, produced and performed in over 50 original shows across Australia for multiple festivals, across a range of cultural institutions, and at hundreds of schools and kindergartens. Through Heaps Good Productions, Michael creates performances with a focus on science communication, the stories within cultural institutions, and living histories. His shows, particularly as singing palaeontologist Professor Flint, often book out within hours, as he engages his audience in the stories of us… of the stories of our prehistory. His recent tour for National Science Week, "Professor Flint's Shadows of the Prehistoric Past" saw him present dozens of shows and workshops on a 10 000 km road trip across Queensland, South Australia, and New South Wales. The focus of the tour was the telling of stories and singing of songs of the prehistoric past, in the places where those stories were first revealed, such as Naracoorte, Winton, and Lightning Ridge.
Michael enjoys a unique relationship with many of Australian's leading palaeontologists, whom he counts as both colleagues and friends. In his guise as Professor Flint, Michael has released two albums, "Dinosaurs Down Under", and "Dinosaurs Amongst Us!", with the latter album, perhaps the first fully, peer-reviewed album of dinosaur tunes for children on the planet!
In 2014, he was awarded the Unsung Hero in Science Communication Award in South Australia.
Sessions:
Disruptive sci comm; how the arts can help scientists escape deficit-model communication (Presenter, Performer)
Sci Comm Cabaret: Creative Science Communication in the Pub (Presenter, Performer)