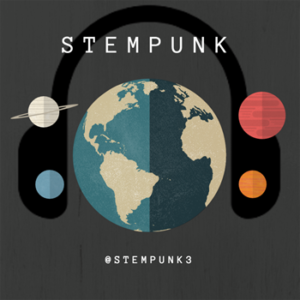 When: Tuesday 13th November, 12:45pm – 2:00pm
Hashtag: #T7
STEMpunk podcast investigates what STEM is, who does it, and why.
The format of the show is like a panel show where we ask Science, Technology, Engineering and Maths questions, as well as a question from our previous guests. STEMpunk has also run a number of successful live quiz and trivia events.
STEMpunk is not like most other Science podcasts, choosing to interview not only people people involved in STEM, but others outside as well. And for those involved in STEM, we ask them questions about things outside of STEM. We have interviewed some fantastic guests like Dr Katie Mack, Dr Karl, Dr Margaret Wertheim and Professor Brian Schmidt.
This session will be an informal chat with the STEMpunk hosts interviewing expert practitioners at the ASC conference about what STEM is, and who does it. The hosts will encourage audience participation and questions to make the podcast as interesting and conversational as possible.
This session will be released as an episode for the STEMpunk podcast.
http://stempunkpodcast.blogspot.com.au/
Session Producer/Session Chair/Presenter
Tom Gordon, Producer/Host, STEMpunk
Presenters
Christie Mcmonigal, Host, STEMpunk
Shane Hengst, Host, STEMpunk