When: Thursday 15th November, 8:00am – 12:45pm (including lunch)
Where: Powerhouse Museum, 500 Harris St, Ultimo
Room: L2, Level 2 to the left of the registration/foyer area, down the hallway and through the doors on the right
Purchase separately or free for conference+workshop delegates (RSVP during registration).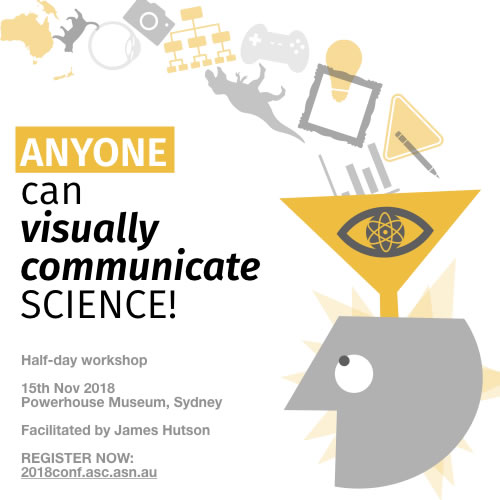 Visuals grab attention and can have great explanatory power. As a result they've long been coveted in science communication circles. Yet many practitioners still feel they lack the skills to make them.
Well, forget all that negative self talk. The premise of this workshop is in the title: "Anyone can visually communicate science". And it goes about equipping you to do so through a series of brief lectures, discussions and practical exercises.
Building on everyday skills you already possess (like writing, taking photos, sending text messages and using presentation software), this hands-on workshop will help you make visuals that should prove immediately useful in your internal and external communication activities.
Bring along pen, paper, laptop and ideally some idea/concept/research you wish to communicate visually.
Learn how to:
⁃ analyse visuals you like and use them to guide you in creating your own,
⁃ generate and iterate visual ideas,
⁃ create simple illustrations, visual abstracts and infographics,
⁃ improve the quality of your visual products,
⁃ and commission visuals (because even having learnt the basics you may still need to delegate).
PLEASE NOTE: Science visualisation is a related but different area of endeavour. If that is your focus, much of the content might still be relevant but the workshop will not be covering computer simulation or 3d computer graphics.
Workshop facilitator
James Hutson, Explanation designer, Explanovision
Purchase separately or free for conference+workshop delegates (RSVP during registration).
**This is a public event. Register to save your seat!**
Share on Facebook: https://www.facebook.com/events/694141270960487/